Modern Foreign Languages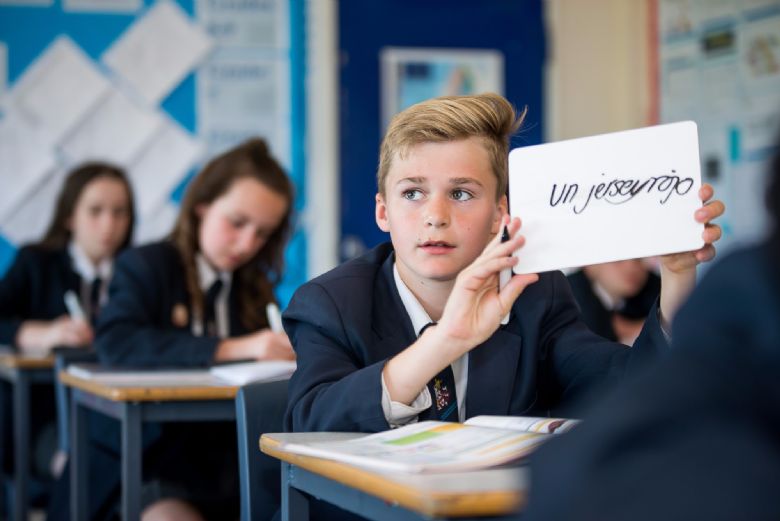 In the Modern Foreign Languages Faculty, we aim to equip pupils with the necessary skills to communicate in a foreign language, as well as understand and appreciate a different culture. We try to make learning a language as easy, interesting and innovative as possible, and our faculty staff work hard at preparing vibrant, exciting and academically robust lessons, which enthuse students towards success in learning languages.
At present, all students at Emerson Park Academy have the opportunity to study a language at GCSE and are strongly encouraged to do so. GCSE French and Spanish are now very popular Options subject choices and we are pleased to see Emerson Park's students enjoying their language study. The faculty believes that the benefits to students of continuing to study a language are endless; it improves literacy skills in English, widens their outlook on the world around them, encouraging them to think internationally and prepare them for today's global workforce.
We love languages, and we aim for Emerson Park Academy's students to feel the same!
If your child has ability in another language, for example, mother tongue Polish, Russian or Portuguese, it may be possible to take an additional GCSE in these languages. Please contact Ms Binnington for more information.
Teaching and learning resources
Highly qualified, full- time members of teaching staff
SMART Board Technology in every MFL Classroom
32 Google Chromebooks exclusively for MFL Use
Brand-new "Allez", "Studio" and "Viva" course books and "ActiveTeach" interactive resources
Google Classroom e-learning
French contemporary magazines for independent reading
"Linguascope" and "Languages Online" online learning tools
Authentic DVDs and CDs
Access to foreign language assistant for GCSE preparation
Programme of Study at Key Stage 3
In Spanish, the 4 skills of learning a language are equally assessed. These are:
Listening Speaking Reading Writing
We encourage spontaneity in the language and our students speak about a wide range of topics in Spanish. We follow the VIVA course textbook and this allows us to supplement our lessons with listening and reading exercises, which give students feedback on the level that they are attaining.
The topics studied at KS3 include:
- Self, family and friends
- Hobbies, sports, activities and interests
- Food and drink
- Town and local area
- Holidays and future plans
- School life in the UK and in Spanish-speaking countries
Programme of study at Key Stage 4 (GCSE)
Your child will be offered the option to continue with Spanish for GCSE.
We follow the GCSE Specification for exam board AQA. Preparation for this examination aims to help our students develop the language effectively, in everyday situations, providing a deeper insight into the culture of Spain, as well as developing the topics studied in Years 7-9.
The 4 skills are still assessed, equally. The new GCSE will grade your child from 1-9 (9 being exceptional performance) and all of the assessments are external examinations, done at the end of Year 11. There are no resits.
Listening: 25% Reading: 25% Speaking: 25% Writing: 25%
More Able Students
If your child is an able linguist, they could also opt for an extra GCSE in French, which will be an intensive course studied over the 2 years. If they opt for this, they would also have to continue GCSE Spanish; thus, encouraging our most able students to learn 2 languages.
Homework and Independent Learning
Your child will be expected to complete regular, short homework in Years 7-9 and longer pieces of work in years 10-11. This will comprise of reading and writing tasks as well as online homework and learning vocabulary for tests. Homework will always be set by the teacher on the Show My Homework website.
Contact us
In the event of any issues to do with your child's French or Spanish studies, please try to resolve queries with their classroom teacher in the first instance. Alternatively, contact Ms Binnington, Head of MFL.
The faculty also has its own twitter account. Please follow or tweet us @MFLFacultyEPA