Here Come The Girls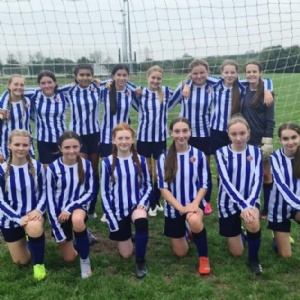 First fixture of the 2022/2023 school year.
The summer of 2022 was fantastic for sport. England's Lionesses aren't just inspiring girls, they're inspiring a nation. So, if there's a difference between women's and men's football, it isn't down to technique. The 2022 Euros have shown that women are more than capable at smashing the sport. It's more about the way it makes us feel: positive.
Contrary to how the game has been marketed in the past, we know that there is more to women's football fans than the watered-down 'daddy and daughters' parade that is often portrayed, women's football fans have proven to be wide-ranging and highly engaged.
On Tuesday evening our U14 girls football team continued the inspiration, winning 10-0 at home to Harris Ockendon in the National Cup.
The girls put in a solid effort and dominated the game from start to finish. Debuts in the U14 team from Lyla B, Lois S, Brooke A and Tiger and well done to our U16 girls football team winning 3-2 in the first round of the Essex Cup. A fantastic team performance in a very competitive game.
Keep up the effort girls!