British Sign Language group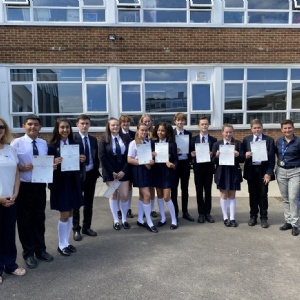 The idea of senior prefect, Lacie P, the sign language class has been an overwhelming success. Fifteen pupils began the journey of learning British Sign-language at Level One in January of this year. Meeting with representatives of Positive Signs, an Upminster based teaching school, the students learnt the basics of communication. All pupils can now enquire as to the well-being of the those in the deaf community; ask for and provide directions; engage in basic conversation about likes and dislikes.
The final examinations for the course were held the last week of June, and it is a delight to report that all pupils passed with flying colours.
It is our intention to continue the excellent work undertaken here by offering the course again in the coming academic year.