Clubs and Workshops
GCSE Art and Photography
Every night after school.
Workshops at lunchtime.
KS3 Art
Monday after school
KS3 Photography
Wednesday after school.
Erasmus Global Links
Year 9 - Half-termly workshops
Social Science - Film Club
Lunchtime - every day for a week - every third week.
Design Technology Clubs
DT Club​
Tuesdays
3.00-4.00pm
Miss Garnham
C7
Open to all KS3 pupils
Eco-Committee
Wednesdays
lunchtime
Mr Dennis
T3
​Selected Pupils across all year groups
Fashion & Textiles
​ Mondays
3.10-4.10pm
Miss Boyse
T1
Year 11 Textiles Students
Drama
Year 10 - National Theatre Connections rehearsals after school Wednesday, Thursday and Friday.
Geography
Wednesday Lunch - Year 11 exam support and work completion
Thursday Lunch - Green Flag Club (All years)
Music Clubs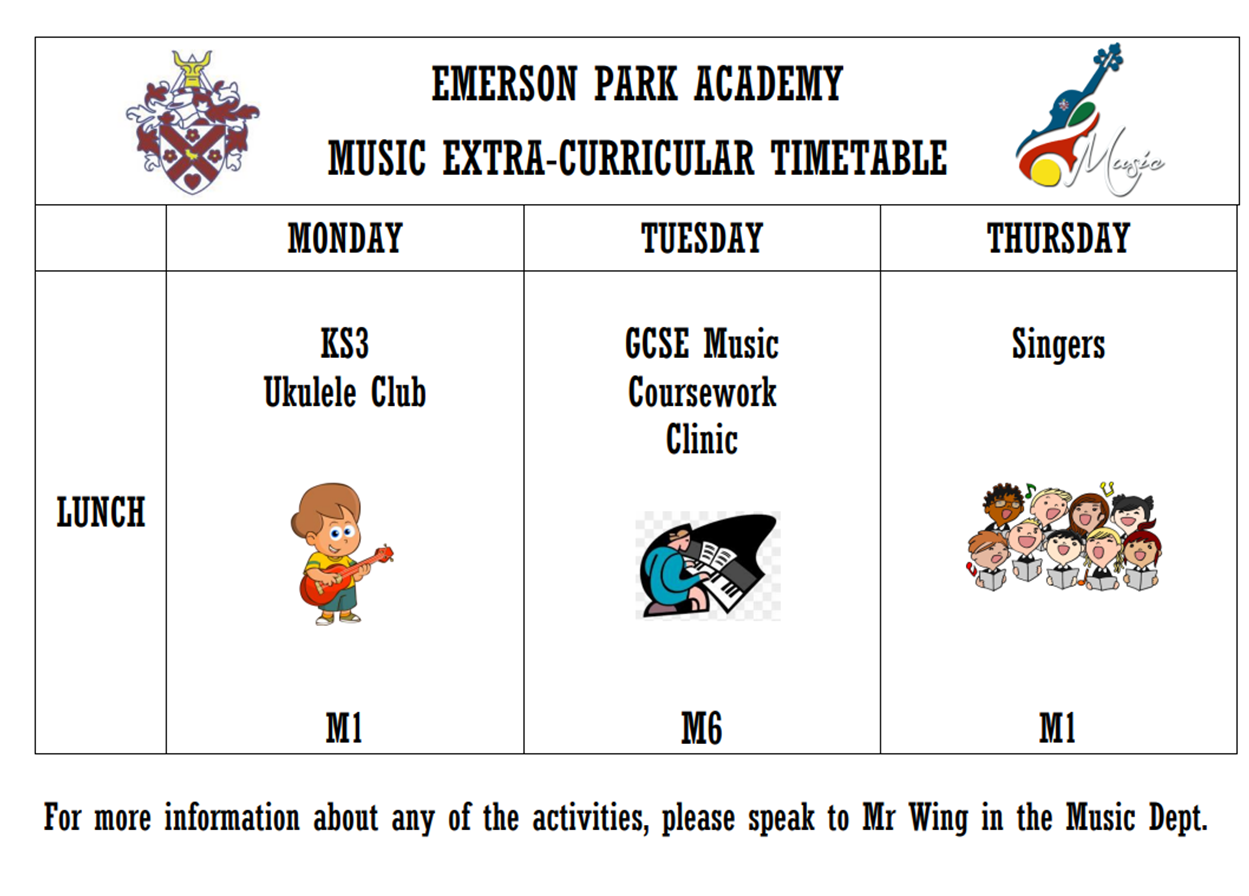 Sports Clubs
*Limited Numbers. Table tennis-you must get a pass from Mr Wheeler that morning.
DAY

Boys Girls

Mon

Lunchtime

*All years Table tennis

*KS3 Basketball Shooting club

*All years Table tennis

After school

All years Rugby

Year 10/11 Netball

Tues

Lunchtime

Year 7 Football

Year 9 Football

Year 8 Basketball

After school

Year 9 Girls Basketball

Year 7 and 8 Netball

Wed

Before School

Year 8 Football

Lunchtime

Year 10 and 11 Basketball

*All years Table tennis

*All years Table tennis

After School

Year 7 Basketball

All years Girls Football

Thurs

Lunchtime

*All years Table tennis

Year 9 Basketball

*All years Table tennis

Year 9 Girls Netball

Fri

Before School

Year 10 Football

Lunchtime

*GCSE students Table tennis

Year 11 Football

*GCSE students Table tennis